DOWNLOADS
download these useful guides and eBooks to get started with Magento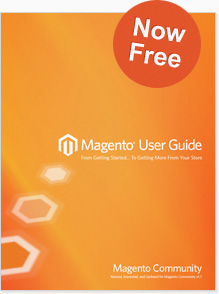 The Magento Community Edition User Guide is designed to help merchants launch successful online stores on Magento Community Edition. Written for store owners and site administrators, this book walks you through the end to end process of installing the software; setting up your site hierarchy, catalogs, and products; and managing customers, orders, payment options, and the look and feel of your site.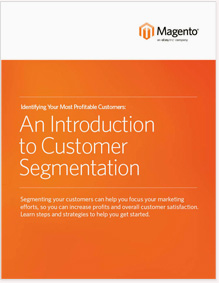 INTRODUCTION TO CUSTOMER SEGMENTATION EBOOK
Successful customer segmentation starts with collecting and analyzing customer data. But there's more to customer segmentation than grouping customers demographically. The more you know about your customers, the more you can give them what they want—and the more likely they are to keep coming back. Get a detailed introduction to customer segmentation, and learn how to increase profits and overall satisfaction.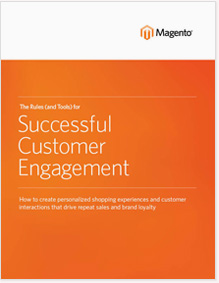 CUSTOMER ENGAGEMENT EBOOK
This 30+ page eBook offers strategies on how to create personalized shopping experiences and customer interactions that drive repeat sales and brand loyalty.
You will learn:
Why customer engagement is important to your business
How to create positive experiences to keep your customers coming back
What fundamental changes you can take to produce the biggest impact
Learn tips you can use to engage today's technology-empowered customers — and turn more interactions into transactions.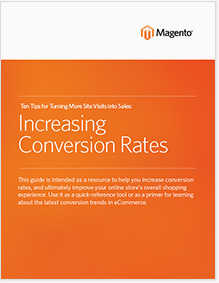 INCREASING CONVERSION RATES EBOOK
This Magento eBook offers ten tips even the most seasoned merchants can use to increase their conversion rates through evaluating and optimizing their site's entire shopping experience.
Get key insights on:
Merchandizing for conversion and higher average order value
Minimizing shopping cart abandonment
Connecting with your customers for more repeat business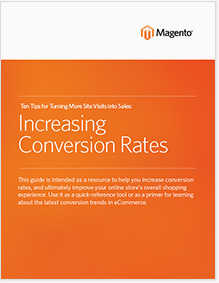 INCREASE YOUR AVERAGE ORDER VALUE EBOOK
This eBook offers five simple and inexpensive strategies to increase your average order value (AOV) by optimizing and personalizing the shopping experience.
You will learn how to:
Reduce marketing costs by optimizing inexpensive, but effective, strategies
Get deeper insight into your customers and plan revenue goals
Strengthen your business against unforeseen dips in traffic